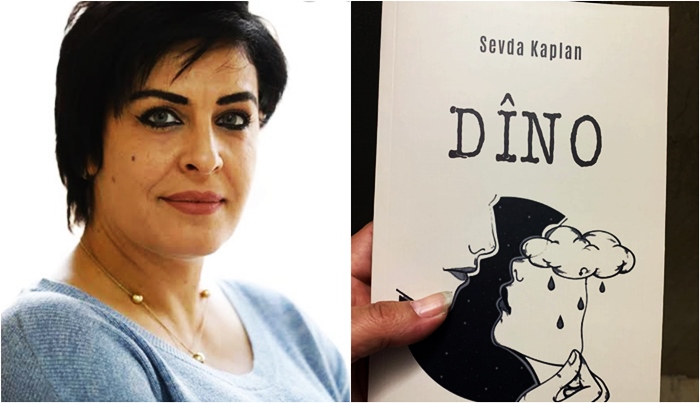 PeyamaKurd - Nivîskar û rojnamevana Kurd Sevda Kaplan romana xwe ya bi navê "Dîno" çap kir.
Li ser nivîskariya Kurdî û romana Dîno Sevda Kaplan bersiv da pirsên PeyamaKurd. Kaplan dibêje; "Heke mirov derfetê bide jinan, jinên Kurd di nivîskariyê de wê zû bi pêş kevin."
Di destpêkê de em bêjin ser xêrê be romana te ya bi navê "Dîno." Pêvajoya nivîsandina vê romanê çawa dest pê kir?
Nivîsandina romaneke Kurdî demek dirêj bû xeyala min bû. Lê destpêka wê ji bo min zehmet bû, lewra cara yekem bû ku bi zimanê Kurdî min ê çîrokek binivîsanda. Berî niha ceribandinên min bes bi lêkolînên foklorîk û gotarên çandî bûn. Beriya du salan min biryar da ku romanekê binivsînim, li derdora min gelek bûyer diqewimîn, heman demê hin bûyer jî ser serê min derbas dibûn, ev jî bûn sedem ku dest bi çîrokê bikim. Hevalên min ên derdora min jî min teşwîq dikirin, piştgirî didan min. Digotin, Sevda tu ji xwe dinivsînî çima tu romanekê nanivsînî, tu yê bikaribî û hwd. Rast bû, çîrok û bûyer pir bûn, min jî ji karê xwe feyz girt û min du karekterên dînik ji xwe re peyda kir, duvre herikî.
Mijara pirtûkê hemî honaka ji hizrê te ye yan te mijar ji jiyana rastî girtiye?
Navaroka pirtûkê evîndariya du mirovan e, lê du mirovên dînik in. Du mirovên Kurd in, lê Kurdên ku ne li gorî kevneşopiya Kurdan tevdigerin in. Ew di vê berhemê de dibin keseyatiyên nû. Kesayetiyên modern û ji civaka xwe dûr dikevin. Evîndarê hevdu ne, lê ne evîndariyêke asayî û ne ji rêzê ye. Îxanet, derew û xemginiyek ne diyarkirî heye. Pêwendiyên wan bêtir bi erotîzmeke xwezayî ye. Li gorî rastiya bûyeran evîndariya xeyalî û erotîzim di navbera du kesên navdar de derbas dibe. Hinek jê jiyana rastîn e, hinek jî xeyalên min in.
Di nivîskariya Kurdî de hejmara jinan hinekî kêm e, tu vê yekê çawa dinirxînî?
Rast e hejmara Jinên nivîskar kêm e, lê hejmara jinên ku dinivsînin ne kêm e. Lewra gelek jin li mala xwe dinivsînin, derfeta her jinekê nîne ku navê xwe bi çapkirina pirtûkek bîne pêşiyê, carna derfetên taybet carna jî bandora civata Kurdî a hinek paşdemayinê ye, dibe sedem ku jinên nivîskar berhemên xwe çap nekin û hejmar kêm bibe.
Hin weşanxaneyên me yên Kurdî hene, pêşî li jinan vedikin, wan teşvîq dikin ji bo nivîsandinê, hinek jî hene ji ber quretiya xwe, pozbilindiya xwe, ji ber nasnameya xwe ya cinsî, pêşî li jinan digirin. Hewesa wan dişkînin. Car caran jî rexneyên tûj dikin, bi rêya we dixwazim ji wan kesan bipirsim ka gelo dema we dest pê kir, we bi çi şiklî kir? Hûn mûkemel bûn? Berhemên we yên ewilî çawa bûn?
Mixabin berhemên hin jinan piçûk dibînin. Lê jin jiyan e û her dem di nava jiyanê de bûye karektera sereke. Em baş dizanin ku Jin ji ber nazikbûna xwe a xwazayî ya xwe di destpêkê de helbestan dinivsînin, duvre çîrok an jî roman nivîsandine. Hin jin jî weka min in, aliyê wan ê helbest nivîsandinê nebûye, lê aliyê wan ê şîrovekirin û helbestbêjiyê hebû ye.
Hûn weke nivîskareke jin romana Kurdî û pêşeroja wê çawa dibînin?
Pêşeroja romana Kurdî vekiriye, helbestvan û çîroknivîskarên navdar ê din berê xwe didin romanên qirase. Lewra wêjeya Kurdî van salên dawiyê de gelek pêş ketiye. Gelek berhemên giranbûha hatine çapkirin û hatine nivîsandin. Nivîskarên me yên bi qiymet û jêhatî zêde bune. Hêvîdar im wê zêdetir jî bibe. Lê civata Kurda naxwîne, pirtûkên Kurdî, çi roman be, çi çîrok be distîne, lê naxwîne. Sedema kirînê jî an ji ber fikrên siyasî ye an jî wekî bertek distîne. Mixabin pirtûk bes di kûtupxaneya malê de dimîne. Hin xwendin gelekî kêm e.
Di romanê de hinek hêmanên erotîk jî hene û di jiyana Kurdan de aliyê erotîk pir nayê axaftin. Te bi çi hizrê ev mijar xiste nava pirtûkê?
Min xwest ez bibim mînakek ji bo jinên nivîskar di edebiyata Kurdî de ku di pirtûka xwe de heger mijar were aliyê erotîkê bikaribe bi wêrekî binivsîne. Lewra min berê jî got, jinên me bes helbestan dinivsînin, weka ku ev şax ji bo wan hatibe veqetandin. Hin çîroknivîskar hene. Ên roman jî divîsînin hene, lê kesek qada erotîzmê de sahneyek ji çavê jinekê nenivsandibû, min ew qad weka çolekê dît.
Madem her tişt ji jiyanê mirov feyzê digre, erotîzim jî rastiya jiyanê ye, gelek dengbêjên me di kilamên xwe de erotîzm tarîf kirine, gelek nivîskarên zilam nivîsandine. Çima jinek jî bi çavê xwe nenivîsîne. Her çi qas nêaxaftin jî rastiya jiyanê bixwe ye, filîm tên kişandin, helbest tên gotin, kilam tên sitrandin û hwd. Bila bi qelema jinek bê nivîsandin jî. Pirtûk bi temamî ne erotîzm e, lê tesîr û bêhna erotîzmê û sahneyek di pirtûka bi navê Dînoyê de heye.
Ji bo pêşerojê, niha projeyên te yên cuda hene gelo?
Dixwazim hin gelek berhemên Kurdî binivsînin û bi xwînerên Kurdî re parve bikim. Di vê qadê de berdewam im. Vêga jî di destê min de pirtûkek weka Roman heye. Karekter û çîrok û bûyer cuda ne.